In September I read widely– a bestseller, National Book Award winning non-fiction, a thriller, a book from a fantasy series, and young adult fantasy. Some were fantastic, others…not so much.
Here are the books I read in September: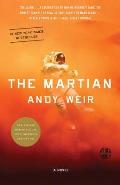 The Martian (2011) by Andy Weir
Astronaut Mark Watney must figure out how to survive while stranded on Mars.
This book puts the science in science fiction. It's a survival story of man vs. nature in a place naturally inhospitable to humans. What's not to love about that?
I couldn't put it down–I ended up reading it in one day, even though I proooobably should have been using that time to work. "Just one chapter before I get to work," I said. Several hours later…
I didn't love the book just for the realistic use of scientific explanation, the captivating problem solving, or the constant stream of life threatening scenarios. It was also pretty darn funny–I loved Watney's snarky humor.
The film was fun, but wasn't as on-the-edge-of-your-seat gripping as the book. That said, if you think science is boring, this one might not be for you.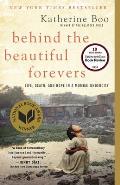 Behind the Beautiful Forevers: Life Death & Hope in a Mumbai Undercity (2012) by Katherine Boo
In the Mumbai undercity Annawadi, individuals in the makeshift settlement are filled with hope as they try to advance their prospects. But religious and economic tensions lead to a shocking tragedy, and the community dynamics are changed.
I chose this book for my local book club and originally learned about it because John Green told me to read it.
It's a beautiful work of journalism, written with the character depth of fantastic literature. The interweaving stories were so alive that I didn't realize that the book was fully non-fiction until I read the afterward.
In addition to putting a human face on global social issues, this book brilliantly shows the complexity of issues such as poverty, women's rights, competitive economic systems, charity, pollution, and corruption.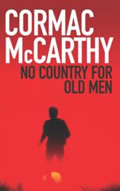 No Country For Old Men (2005) by Cormac McCarthy
When a heroin deal goes wrong in Texas, the man who finds the money, a sheriff, and hitmen begin a terrifying game of cat and mouse.
I spent a weekend in Austin, Texas in September, and I like to try to read things set in the locations I'm in when traveling. I couldn't find anything Austin specific, but Serena recommended I pick this Texas-set novel up. I'm a big fan of McCarthy's The Road and I've been meaning to get around to this one, so the trip was the perfect excuse to buy the book.
I read it during the drive back home. I was mostly reading through this time to just learn what happens–the pacing is fantastic and the plot is captivating. But I feel like I need to give it another read, paying more attention to the character perspectives and themes, before I really decide how much I like it.
McCarthy's writing is challenging–he shies away from most punctuation and traditional dialog formatting, so if you aren't a practiced reader, you might get a little lost.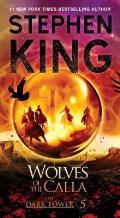 The Dark Tower: Wolves Of The Calla (2003) by Stephen King
In the fifth book of the Dark Tower series, the gunslinger and his ka-tet aid a small town plagued by a group of kidnappers.
Like many of the other books in this series, this one was hit and miss for me. Some of the story lines were interesting and I kept hoping to get back to them quicker when the book took a large red herring detour.
King's integration of his past works into these stories is a very fun touch, but some of it goes on too long unless you're a huge fan of past characters.
There's a problematic mystical pregnancy story line that bothered me in some of the other books, but started to get almost unbearable in this one.
I'm enjoying some of the parts and want to know what happens to the characters, but I'm just reading the series to finish it at this point.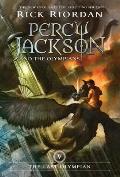 Percy Jackson: The Last Olympian (2009) by Rick Riordan
In the final book of the Percy Jackson and the Olympians series, the half-blood children of the gods prepare to battle the Titans.
I read most of the books from the Percy Jackson series in August, and finished up the last one in September. I enjoyed the children's series and thought it was a great thing to read when I was stressed, busy, and needed some light reading. I'm excited for Eliza to read these so I can talk about them with her!
On the comics front, I also read X-Men '92 #2-3.
Have you read any of these books? What did you think? Make sure to put a big SPOILERS warning in your comment to warn others if you have 'em.
Reading anything good lately?
I'm a Powell's Books affiliate. Purchasing anything through these links helps to support the Nerd Nest.