I broke out of my giant sci fi / fantasy kick a bit for two book club novels this month–both newer, popular books–but then went right back in for the fantasy and comics.
Here are the books I read in July: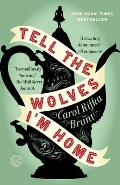 Tell the Wolves I'm Home (2012) by Carol Rifka Brunt
In the late 1980s, the only person who really understands 14-year-old June Elbus is her uncle Finn. A famous artist, Finn paints a portrait of June and her sister just before his death. Lost, June makes an unlikely friend and begins to question what she knows about Finn and her family.
I read this book for my local book club. It was without a doubt one of the best books I've read all year.
This book was exactly what I needed to read. There's a theme running throughout of beautiful things happening as a result of terrible things. I am not a stranger to the kind of questioning that happens to you when those things occur: would you change the horrible things and erase the wonderful ones? If you wouldn't, does that mean that you are somehow glad the awful thing happened?
I think that this is a natural line of thought when dealing with grief. Though the situation in the novel is completely different from my own, it was comforting to be with a character that shared some of my thoughts.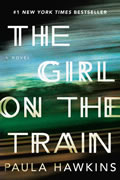 The Girl on the Train (2015) by Paula Hawkins
Rachel is struggling with her personal life, so she finds comfort in fantasizing about the couple she sees out of the train window every day during a stop on her commute. When the woman Rachel has named "Jess" turns up missing, Rachel's fictional story of the perfect couple shatters. As she begins to obsess over the case, she tries to use the things she's witnessed to help solve it.
I picked this book up for Novel Tea Book Club.
This mystery isn't the fast paced, action packed sort. It's the trying to get past the red herrings, trying to figure out what information is right sort. I'm a big fan of unreliable narrators, so I really enjoyed this book. I also enjoyed how different character perspectives were used with different timelines. Though Rachel is the main narrator, the book also shows what really happened slowly through two other points of view.
None of the characters in this book are really likable people, so if you need to be able to identify with a character, this is not the book for you.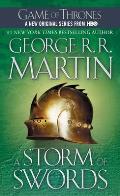 A Storm of Swords (A Song of Ice and Fire #3) (2000) by George R. R. Martin
A Song of Ice and Fire is a fantasy epic series centering on a struggle for power told from multiple points of view.
I'm re-reading this series over the summer–this will be my third time. It's sort of a crazy thing to do, but I'm going for it thanks to a mix of withdraws from the most recent season of Game of Thrones and the excuse to try to look for clues to develop my crazy fan theories further.
This volume is probably my favorite in the series. It is so action packed that the show had to split it into two seasons. The outcomes of the different plot lines in this book are just so darn unpredictable. When you read a lot of fiction, that's a breath of fresh air.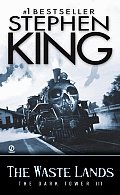 Dark Tower #03: The Waste Lands (1991) by Stephen King
In the third volume of The Dark Tower series, Roland, the last gunslinger, and his new companions from other worlds, on their way to becoming gunslingers themselves, find a path that leads to the Dark Tower. With terrible adventures along the way, they pick up two new companions to complete their party and must rescue each other from the likes of cyborg giant bears, carnivorous haunted houses, rival mutant gangs, and madness.
This series is pretty strange, and it gets even weirder with this volume. I liked parts and disliked others, though I'm not really sure how I'd rate the book as a whole.
I was really disappointed that the only main female character was regulated to the background in this one. Her role in the book was very problematic, so I'm hoping that improves as the series goes on.
And for comics:
Black Canary #1
Batgirl #41
A-Force #2
Captain Marvel and the Carol Corps #1
Captain Marvel #15
X-men #2-4, 26
X-men '92 #1
Spider Gwen #1
Secret Wars #1-4
Have you read any of these books? What did you think? Make sure to put a big SPOILERS warning in your comment to warn others if you have 'em.
Reading anything good lately?
I'm a Powell's Books affiliate. Purchasing anything through these links helps to support the Nerd Nest.