I'm on a giant sci fi kick, so May was largely for continuing and finishing series. I also read a dash of horror, a bit of crime, urban fantasy, and realistic fiction. So while I'm mostly sharing genre fiction this month, I did mix it up a little.
Here are the books I read in May: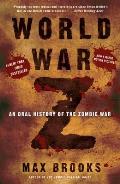 World War Z: an Oral History of the Zombie Wars (2006) by Max Brooks
Through interviews with people all over the world, a journalist traces the history of the zombie outbreak and wars that followed.
I loved that the book traced so many different scenarios. With so many horror apocalyptic novels, the story of one person or group is told. Usually, these books keep the reader in the dark about what is happening and how it happened. That's part of what makes most of these books interesting: most of the time, when novels or movies try to explain the mystical, they fall short and the trance of believability is broken.
World War Z took the opposite approach: it used the interviews to show how the zombie outbreak may have began, different ways it spread throughout the world, and how humans and governments reacted to outbreaks as they spread and became overwhelming. But the approach is so detailed and matter-of-fact, I had no trouble suspending disbelief the whole time. Some of the scenarios were so creative. For instance, one of the ways the zombie virus spread was through international black market organ transplants. Realistic scenes drove the global scale story forward.
I was also impressed with the writing style–each of the interviewees in the novel had distinct voices that fit well with their backgrounds. That's a lot of character voices to master, and Brooks did a fantastic job.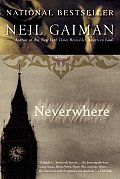 Neverwhere (1996) by Neil Gaiman
Richard Mayhew finds himself drawn into the dark fantastic underworld London Below after helping a young girl.
I liked this book (I'm a big fan of realistic fantasy), but I didn't enjoy this one quite as much as some of the other works I've read by Gaiman. It might be that I just didn't connect with the characters enough. The protagonist reminded me too much of Arthur Dent in The Hitchhiker's Guide to the Galaxy. Richard Mayhew fits the same bumbling mundane Englishman stereotype–which is generally a funny juxtaposition to the absurdity of otherworldly plots–but there just wasn't enough to him for me.
Mostly I really enjoyed it while reading it, but it didn't stick with me.
Though now I'm going to have to track down the BBC miniseries based on the book–Peter Capaldi? Yes, please.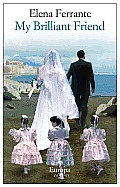 My Brilliant Friend (2011) by Elena Ferrante
Set in 1950s Naples, friends Elena and Lila grow up in a fierce Italian town as their friendship ebbs and flows.
I picked this book up for my local book club with friends. Judging the book by its cover (which, despite the saying, is sometimes a good indicator), I went in skeptically. This didn't look like the type of book I tend to enjoy.
I was pleasantly surprised, however: I found the characters and setting captivating. I love books that submerse me into another time and place and help me to better understand history and culture. I've never read another book in post-Mussolini Italy and I appreciated not only the look at how difficult it was for women in this society, but also a look at how abusive people become when reconstructing after a system that rewards harsh behavior.
This is a book in which nothing much happens. There are no big shaking realizations or plot twists. So keep that in mind if slow reading is not your preference.
This novel is the beginning of a series of four and I'm planning on reading the remainder of the series.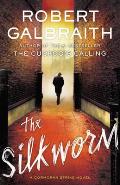 The Silkworm (2014) J. K. Rowling as Robert Galbraith
In the second novel of the series, Cormoran Strike investigates the disappearance Owen Quine, an unsuccessful and disturbingly slanderous novelist.
I enjoyed this book, though not quite as much as the first book in the series. I loved the detailed descriptions of characters and settings–J.K.'s books really come alive. I just didn't find the plotting of the investigation as clean as in Cuckoo's Calling and found myself more interested in the side stories.
I was most disappointed with the treatment of Robin Ellacott, Strike's assistant, in the first novel, but was much happier with her character development through this book and am excited to see her grow over the course of the series.
If J.K. keeps writing them, I'll keep reading them.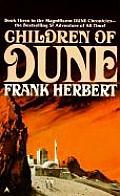 The Children of Dune (1976) by Frank Herbert
Emperor and deity Paul Muad'dib is gone and his family carries on his legacy–though plots within plots work to destroy them.
I haven't been a big fan of the Dune series, but I was still interested enough to know what happened in the story. I'm satisfied after this, the ending to the original trilogy. Like Dune and Dune Messiah, I just don't like the way it's written even if I do think that the concept is interesting. Far too much telling rather than showing, ridiculously obvious foreshadowing, and flat characters ruined this book for me.
Even though I didn't like these books very much, I'm still glad I read them, because I can see how they've influenced the sci fi that I do love.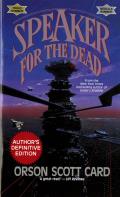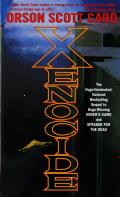 Speaker for the Dead (1986) and Xenocide (1992) by Orson Scott Card
In these indirect sequels to Ender's Game, Ender is 3,000 years in the future, but has not yet reached middle age because of relativistic space travel. Another intelligent life form has been discovered and Ender is determined to ensure history is not repeated with this species, while attempting to save a family from themselves and perhaps begin old life anew.
I actually think that Speaker for the Dead is better than Ender's Game, though Xenocide was repetitive at times because I was reading these back-to-back.
I love how these books deal with the morality of conflict by force. I have a minor in Peace Studies, and these books are like a narrative come alive of the arguments surrounding Just War Theory. Academic debate with aliens. That I can get behind.
I love that these also deal with the horror that can come from miscommunication and cultural misinterpretation.
*On the comic book front, this month I also read A-Force #1.
Have you read any of these books? What did you think? Make sure to put a big SPOILERS warning in your comment to warn others if you have 'em.
Reading anything good lately?
I'm a Powell's Books affiliate. Purchasing anything through these links helps to support the Nerd Nest.