I share my monthly reads with you, but I'm not the only bookworm in the nest. I couldn't even do a post with all of Eliza's monthly reads… it would be WAY too long! We usually read anywhere from 3 to 6 "picture" books a day (chapter books take us much longer to read; it took us FOREVER to read Coraline together).
Jonas is becoming a book lover too. He used to get really fussy before his afternoon nap, but now I pile the kids on my lap with a few books picked by E right before nap time. J is always knocked out by book #2. He does not even try to argue.
Here are some of the books that we all love reading together. These are books that we've read enough times that we have them memorized. And us grown ups are not sick of them. They are that good.
Goodnight Moon (1947) by Margaret Wise Brown
This book is amazing for bedtime because it not only has a sleepy theme, but has a soothing and lyrical word flow. We keep a board book version in the diaper bag because it is a good calmer if things get hectic while we're out and about.
This was probably my favorite book when I was little and it has been one of our most read books with E since she was a baby. We like that it is fun to read, but also teaches a TON of the things children's books try to get across. Your kids will learn counting, the days of the week, names of fruits and veggies, and caterpillar life cycles all in a few pages. They won't even know they're learning. They will pick it up through osmosis. This book is also nice and calm, making it a good bedtime story.
Chicka Chicka Boom Boom (1989) by Bill Martin, Jr.
Speaking of books that are nice and calm, this book is not one of them. It is EXCITING! The rhythm of the words makes you want to get up and bounce around and will make your kids want to go crazy (in a good way). This is a much more fun way to learn the alphabet than that silly old song. It was recommended to us by my Aunt Beth, who used to work at a day care. It was a big hit there.
Another one of my childhood favorites. Get ready for the water works; this book is a tear jerker once you reach parenthood. We love books with "I love my kids" themes, because it inevitably starts a "this is how much I love you" sort of a discussion. Who doesn't want more of those? This is another great before bed read.
I love this book not just for the great story and very interesting pictures, but also for the sense of adventure it invokes. Wild Things gets Eliza and I in the mood to explore and build forts. Plus, it is fun to read out loud. It is easy to become quite theatrical with this one.
If You Give a Mouse a Cookie (1985) by Laura Numeroff, illustrated by Felicia Bond
We love every book in this series. I didn't read these when I was little, but I remember my little sister Taylor loving them. These books have fun characters, silly plots, and teach cause and effect. The plots in the series satisfy those natural "What if" and "Why" impulses in toddlers. Eliza has fun telling me her own stories in this format, too. "What would happen if I gave a squirrel this nut? He would want a nutcracker to get it open, right?"
Are You My Mother (1960) by P. D. Eastman
This one was one of Jake's favorites. It was the first book he could read on his own (my first book was
Green Eggs and Ham
). It teaches about animals and the plot seems like a big adventure to little Eliza. This book ads an extra learning element for us, as it inevitably leads to a complicated discussion about Eliza's grandparents. Jake and I both have split parents, and "Are You My Mother" leads us into the discussion of how it is possible to have two Mommies or Daddies. We tell her that our biological parents made us (she likes to know who grew whom in whose tummy) and our step-parents helped raise us. Then we get into adoption conversations (we plan to adopt some day). If you have a non-traditional family and have been wondering how to explain it to your kids, you can always use this book. I mean, what if the little bird never found his bird Mommy? Maybe that dog would have adopted him.
Danny and the Dinosaur (1958) by Syd Hoff
This book is like Frosty the Snowman, but with a dinosaur. Who doesn't want to hang out with a dinosaur for a day? I'd go to a lot more museums if there was a chance Danny would play hide and seek with ME.
Curious George (1941) by Margret and H. A. Rey
The monkey is cute, the colors are bright and primary, and the adventures are endless. But I also like these books because of their subtle stance on discipline. George is a naughty little monkey, but he's not doing it on purpose. He's just curious. He makes big messes but always helps to make it right. And the man with the yellow hat loves him no matter what. Substitute the word "George" for the word "toddler" and you have the truth of the matter. It's a nice way to look at mild naughtiness both from a parent's and a kid's perspective.
Brown Bear, Brown Bear, What Do You See? (1967) by Bill Martin Jr and Eric Carle
I remember my Kindergarten teacher reading this to us. This teaches colors and animals. It's the very first book Eliza has memorized; she "reads" it to me.
How Do Dinosaurs Say Good Night? (2000) by Jane Yolen and Mark Teague
This is one of Eliza's top picks for bedtime. It was her very favorite book
at three
. We love dinosaurs. This book asks if they do all sorts of ornery things in order to get out of bedtime and depicts them throwing fits in their messy kid bedrooms. In the end, it shows that dinosaurs do not do these naughty things at all. They do GOOD things at bedtime, like give kisses. The book has an awesome rhythm and meter too.
P.S. I like that the dinosaurs have human parents.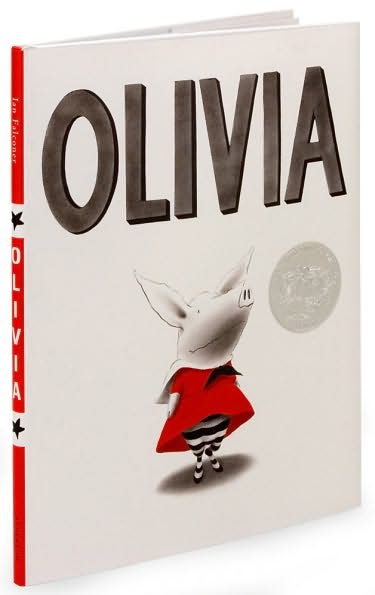 Olivia (2000) by Ian Falconer
Our favorite contemporary children's book. Olivia is an excellent character. Her BIG precocious personality is classic oldest child. Eliza can definitely relate. Funny, even for adults.
The Fox in Socks(1965) by Dr. Suess
We love all books by Seuss, but this one is a less talked of gem. This is Jake's favorite book to read with Eliza, as it is full of tongue twisters and can get pretty silly. So, let's talk about tweedle beetles…
I'll write about our favorite children's chapter books soon for those of you with bigger tots.
Do you have any favorite children's books? Share!